Back To Blog
Most homeowners fail to realize that when it comes to their home's security, the right kind of lock is needed. Choosing a security device for a possible replacement or an upgrade is not something that you can simply do without taking some precautions. To boost your home's security, the locks that you purchase must be high quality and reliable.
The process of selecting the right one can become rather complicated as some stores are actually offering inferior products. Moreover, not all locks are suitable for all doors. Thus, it is important to choose the right product before installing them at the home or office.
Things to consider in choosing the right lock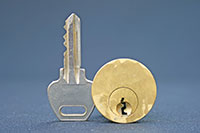 In the process of choosing locks for your home, you have to remember that this is not something that involves simply choosing the one that 'looks right' on the store shelves. There are several things to consider before selecting the right lock. You need to think about the type of door that you have and the level of security that you need. In addition, you also need to consider the quality of material where you will be placing the lock and the requirements of your insurance company. Some insurance companies require certain level of security for your home.
Never compromise your home's security
In choosing the right lock, it is important to determine your budget without compromising your security needs. This way, you can choose which type of security device is best suited to your needs and budget. Lock and key systems vary when it comes to price. Thus, you have to think about your budget and make sure that you purchase a system that is priced right for you without compromising the quality of the lock.
A reputed locksmith like us can recommend the installation of an advanced security system. These types of locks are patented and restricted, which ensures your home's security. Patented or restricted keys carry legal protection. This means that the keys cannot be copied. In addition, these types of keys have unique mechanical features and an unusual design, which make them difficult to copy.