Back To Blog
There are a variety of reasons why a person would need some assistance in lock repair for residential or commercial properties. You may suddenly face a situation where you door key is starting to stick or fail to turn completely. There are also instances where the keys have been cut improperly and resist when turned. Sometimes, all you have to do is apply some lubrication inside of the mechanism. Without doing this, it is possible for your key to break inside of the cylinder.
You also may face a situation where the steel bolt does not reach the entirety of the latch. This can happen sometimes due to bad measurements and installation. In the event of this happening, you may have to push against the door to ensure that the bolt and latch connects securely. Because home security is so important, it is best to contact any locksmith in Litchfield Park for servicing.
Picking the Right Door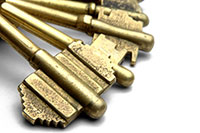 Doors to the home are sometimes overlooked by homeowners as part of a good security system. They are often taken for granted by many. Some often believe that simply because there is a locking mechanism on the doors, the home is secure and safe. Doors are in place to accomplish the same goal as locks: keeping the property safe.
Security Measures
When choosing the best door for your home, keep in mind that glass can be broken which increases the chances of a breach. It is best to keep the number of glass panes to a minimum in order to increase your home security. This will prevent intruders from being able to see what's inside of your home. If your doors are sturdy, make sure the locks are heavy-duty and can withstand force. To get the maximum protection from your locking system, have a deadbolt installed on the front door, back door, and side doors if you have them.